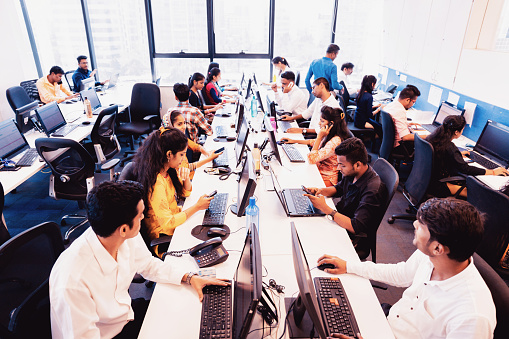 Help Together Group is a digital marketing agency that was established in 2017 with the mission of helping businesses grow online. We offer a comprehensive range of services that includes website design and development, app development, social media marketing, SEO, local SEO, Google Business profile management, custom development, PPC management, virtual tour photography, political campaign management, and brand building. Our team of creative and multi-talented web designers and developers is dedicated to providing customer-oriented services and delivering creative and effective results.
Since our inception, we have served over 3000 happy clients, including the government of India. We have established ourselves as a trusted and reliable partner for businesses of all sizes, across a wide range of industries. Our goal is to help our clients succeed online by creating high-quality, user-friendly websites and implementing effective digital marketing strategies.
At Help Together Group, we are committed to staying up-to-date with the latest trends and technologies in the digital marketing industry. Our team of experts is always learning and adapting, so that we can deliver the best possible results for our clients. Whether you are an individual needing a basic website of a few pages or a large business house requiring a complex website for online branding or custom E-Commerce website, we have the expertise and resources to help you achieve your goals.
If you are looking to grow your business online, we encourage you to contact us to learn more about how we can help. Our team is ready to work with you to create a customized digital marketing solution that meets your specific needs and helps you succeed online.
Our service is a long-term solution to get your Goals.
We have a team of highly innovative professionals providing you with get instant results to rise in the highly competitive market within your niche. We will help you to Complete Your Purpose with our web design technology. We will customize our services according to your requirements. Our project analyzing team will first examine your Requirements then we work on it.. We, along with our clients, discuss and outline goals from time-to-time in order to stay on track.
Help Together Group has satisfied various clients across the globe and we have been appreciated by utilizing our prompt website Design, instant yet successful results and unmatched determination to go beyond the client's expectations. Should you have any questions, please let us know. If you would like to proceed with consulting your website's general requirements, you just need to choose the contact options that will be provided to you within this proposal. Most of your questions should be answered within this offer but don't hesitate to find out more such as client testimonials and references.
With us you'll feel heard. We listen to our client requirements and then select the right solution that fits. We care for your business as our own. We take a sincere interest in it and genuinely want to help your company reach its potential.
Our Happy Clints
Review your goals twice every day in order to be focused on achieving them. ...
Let us together build a flourishing business
When connected with us, you aren't growing your business alone. We have your back and put in our best to contribute to the growth of your entire team and organization. So, if you are looking for the right agency that'll help you build a good online presence and bring in more conversions and revenue, we are right here!