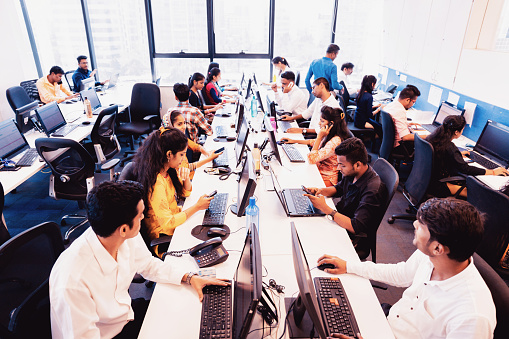 Help Together Group is a privately held company, consisting of many creative and multi-talented web designers and web developers. We provide a wide range of services including web design, web development, hosting, and consulting Help Together Group offers customer-oriented services and delivers creative and effective results.
Help Together Group started its journey to excel in the field of website development and internet marketing in the year of 2016. It was established with a mission to lead in this sector. We believe in to provide quality service to our customers by creating goal oriented, good looking, technically excellent and affordable websites.
Whether you are an individual needing a basic simple website of a few pages or a large business house requiring a Large Website for online branding or custom E-Commerce website, our friendly and experienced web technicians and Sales team take every project as a new challenge and come up the with the best of your industry as per your personalized requirements blend with latest trends.
Our capable team of web designers, web programmers, Content Writers, Flash Animator, SEO Executives are experts in their works and technology sales, and they always come with unique idea each times matching latest trends and demands of the world. We prepare a unique strategy after getting your project with a close co-ordination of Sales and Technical staff as we understand the importance website in your business.
Our technical support staff is always ready on their toes to guide you at any hour in case anything is incomprehensible or unmanageable for you. So let's make your visitor's surfing on your website more exciting, intriguing and fruitful. Speak loud your vision with Help Together Group's web solutions of electronic marketplaces
where suppliers and potential customers are brought together to conduct mutually beneficial trade.
Our service is a long-term solution to get your Goals.
We have a team of highly innovative professionals providing you with get instant results to rise in the highly competitive market within your niche. We will help you to Complete Your Purpose with our web design technology. We will customize our services according to your requirements. Our project analyzing team will first examine your Requirements then we work on it.. We, along with our clients, discuss and outline goals from time-to-time in order to stay on track.
Help Together Group has satisfied various clients across the globe and we have been appreciated by utilizing our prompt website Design, instant yet successful results and unmatched determination to go beyond the client's expectations. Should you have any questions, please let us know. If you would like to proceed with consulting your website's general requirements, you just need to choose the contact options that will be provided to you within this proposal. Most of your questions should be answered within this offer but don't hesitate to find out more such as client testimonials and references.
With us you'll feel heard. We listen to our client requirements and then select the right solution that fits. We care for your business as our own. We take a sincere interest in it and genuinely want to help your company reach its potential.
Our Happy Clints
Review your goals twice every day in order to be focused on achieving them. ...
Let us together build a flourishing business
When connected with us, you aren't growing your business alone. We have your back and put in our best to contribute to the growth of your entire team and organization. So, if you are looking for the right agency that'll help you build a good online presence and bring in more conversions and revenue, we are right here!